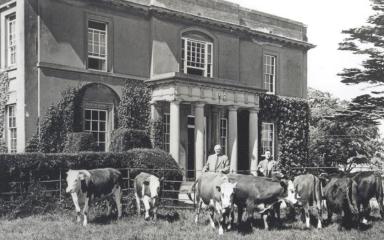 Every year around September, Heritage Open Days events are held throughout England. This year's events will be held between the 8th and 17th September. 
For the first time, the Open University Archive is holding events this year – including displays of archive material in the Library Atrium and Archive Research Room and historical tours of the Walton Hall campus. The OU Archive events will be during the afternoons of the 13th, 14th and 15th September. For further details, including booking links for the tours, visit the HOD website event page.
Photo description: The exact date of this photograph of Walton Hall is unknown but it was probably taken in the late 1950s or early 1960s. The man standing behind the cows to the left is Brigadier Eric Earle who - through his marriage to Diana Harley - owned the estate until his death in 1965. The man on the right is the Earles' farm manager, Mr. Brown.