I have been working at AstrobiologyOU as an intern since May 2022. I had made my final submission for my bachelor's degree – Geography and Environmental Sciences – on the 1st of June. My job role was 'Outreach Coordinator', in which I worked in the public relations field of AstrobiologyOU. I have learnt much during the three months which I have spent with AstrobiologyOU. While my contract now feels as if it has been short on hours and short on length – an average of 14 hours a week over 12 weeks – this internship has had a significant impact on me, and I believe that the memories of this internship will remain with me for the rest of my life.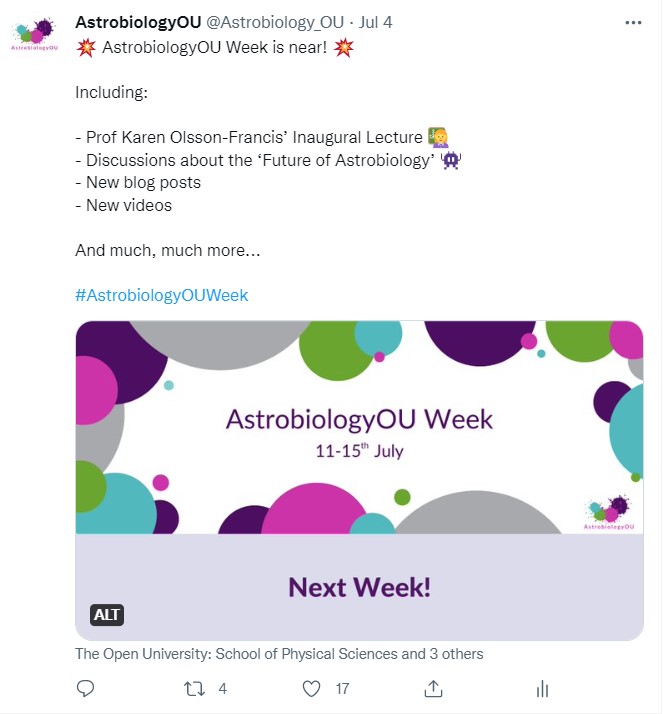 As an Outreach Coordinator, my work included writing posts for twitter – this begun with writing twitter posts for the Glasgow Science Festival in 2022, after which I wrote many twitter posts, for AstrobiologyOU Week and the weeks before and after. I also made graphics to go with twitter posts and wrote many written pieces during my time working here. Firstly, I have been able to develop my abilities as an employee – the experience of having a professional job, completing work, liaising with colleagues, meeting deadlines and so on has given me indispensable experience of working life. Secondly, I also developed my abilities directly related to my work, such as my writing skills and my skills in creating effective graphics. Even though I was not directly involved with the scientific research taking place at AstrobiologyOU, in order to complete my tasks, I attend lectures about research, read scientific papers and articles, and learn about astrobiology. This meant that my scientific knowledge was expanded and further entrenched during my internship. Science is fun, and I definitely had fun learning about all this new science!
I was essentially an extension of Hannah Cooper – the Public Engagement Officer for AstrobiologyOU. She was an excellent manager and very kind, considerate and flexible. As mentioned earlier, I had started my internship only a short while before my last submission for my bachelor's degree. I was juggling my studies and my internship at the same time, which could have ended very badly, however, I was able to take days off from to complete my degree – a very important few hours as I may not have been able to meet my deadlines without having taken these days off. Working with Hannah has been a pleasure and keeping track of and sharing my work was very easy due to Microsoft Teams. Whenever something needed amending, I was treated with patience and kindness and given constructive and effective feedback, even while working from home!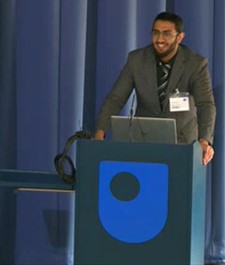 The rest of the team were also welcoming, kind and enthusiastic, which was shown when I travelled to the Open University campus for AstrobiologyOU Week – everyone welcomed me with wide, genuine smiles and were also genuinely excited and happy to meet me. I noticed and I appreciated their feelings towards me, and I am grateful for them and feel fortunate to have been given the opportunity to work with them.
If I was to describe AstrobiologyOU with three words, they would be kind, respectful and fruitful. Kind, meaning that the culture of the organisation is one of kindness to others: the members of the organisation are good, caring and considerate people with big, welcoming hearts and are a pleasure to be around. Respectful, meaning that no matter who you are and no matter what level your knowledge is at, their members will show respect – it seems to be ingrained into the organisation. Fruitful, meaning that the organisation has produced amazing results in the past, such as DETECT in Guyana, and is currently working to achieve even more such amazing results, such as results from their work in the field of sustainability.
Working for AstrobiologyOU has been an honour and I have no doubts that it will continue to be an excellent organisation going into the future. This internship has been a very important steppingstone in advancing my professional career and working here has been a pleasure and a privilege and, if anything, the encroaching end of my contract feels bittersweet. This internship has given me the opportunity to meet people I could only dream of meeting and to be a part of something I could only dream of being a part of. For anyone who wants to do an internship with AstrobiologyOU, I heavily recommend it – my job was a 'dream job' for me after all!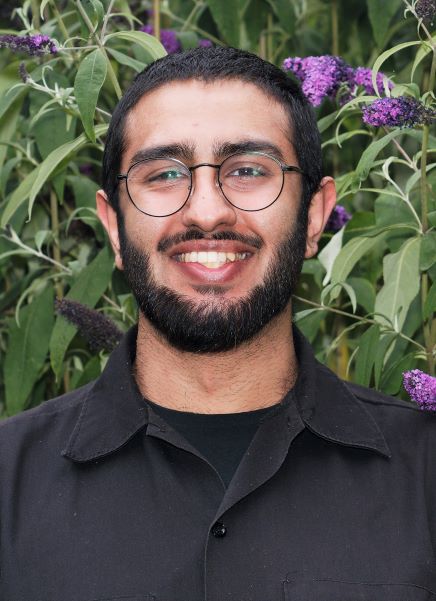 Author:
 Abdul-wahaab Jamshaid
 is an Outreach Coordinator (Intern) with AstrobiologyOU