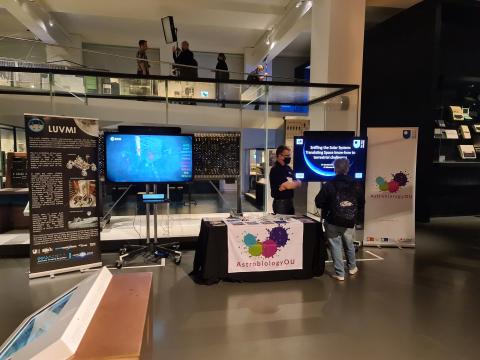 Last night Simona Nicoara and I  presented our space technology translation work at the Science Museum Lates: Space.
Our show-and-tell event was called "Sniffing the Solar System"  and was held in Information Age section of the museum.
We explored the OU's role in developing instrumentation for space missions such as Rosetta and Beagle2 and how the lessons learnt and the multi-disciplinary skills are being used to solve challenges here on Earth.
In addition to having ESA's videos on the Rosetta Comet Landing and Space Technology Transfer and the OU's video Rosetta Gone but Not Forgotten, we were also able to offer visitors the chance to sniff the Comet and Mars (via our ever popular smelly postcards), to sniff the chemicals used by bedbugs to communicate as well as getting people to guess the brand of Scotch whisky from its aroma alone.
Thanks to Louise Thomas for the AstrobiologyOU branding and freebies, Yiannis Tsamis for the ABOU Facilities fliers, Manish Patel for the Mars postcards and ExoMars stickers and Simon Sheridan for the LUVMI banner.
The night was extremely busy, with over 3,000 registering for the event – as ever the audience was diverse, from current PhD students to interested members of the public, social scientists and even a  few OU alumni.
It was also lovely, and a little emotional, to see the model of the Beagle2 Lander proudly on display in the Science Museum next to Cassini-Huygens and Apollo Lunar Lander Module.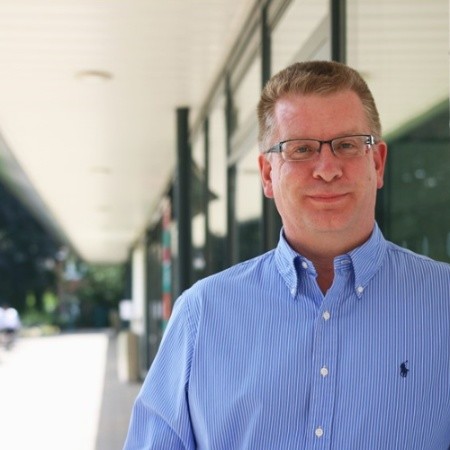 Author:
Geraint (Taff) Morgan
is a Research Fellow
in the School of Physical Sciences at the Open University