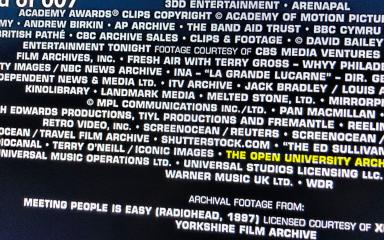 This year, everyone's favourite martini-shaking secret agent film series, James Bond, celebrated its 60th anniversary. Amazon Prime Video joined in the celebrations by premiering a new feature documentary from renowned director Mat Whitecross called 'The Sound of 007', which pulls back the curtain on the remarkable history of six decades of James Bond music. If you watch the documentary, you'll see a clip from the OU Digital Archive of a programme shot in 1977 on the set of The Spy Who Loved Me for a social science module and, within the credits, you'll notice that the OU Digital Archive appears on the list! But how exactly did that come about? Well, Katie Meade, the Library's Licensing & Acquisitions Manger, is here to tell the tale. 
"I'm Katie, the contact for granting permissions for use of our content (via Media Relations/MarComms and other internal sources). I get regular requests from a diverse range of global sources, including academics, publishers, charities, individuals, web asset producers and also global broadcasters and film makers. The Content Licensing & Intellectual Property (CLIP) Team works closely with the University Archive, looking after rights clearance and risk management for many areas of university business, including these external copyright permission requests. 
It's important that we value Open University copyright material and that our profile and position in the competitive archive and media industries is maintained – the University has such a rich and varied archive of audio visual and text-based assets produced by us over the past 50 plus years. Online and BBC catalogues are searchable, so content producers find our materials on these and contact the University Archive to do further searches and the necessary legal checks with CLIP.   
I was recently approached by Ventureland, the production company working on behalf of MGM/EON who were producing The Sound of 007. They wished to include a clip of a programme we shot in 1977 on the set of The Spy Who Loved Me for our social science module DE353, from 1978. The extract shows Marvin Hamlisch on piano talking about the music he composed for the film. A licence was granted on condition of an end credit, of course only one of many for this archive rich, star-studded documentary, but great promotion for The Open University and its wonderful Archive." 
If you're an Amazon Prime member, you can watch the documentary for free on Prime Video.