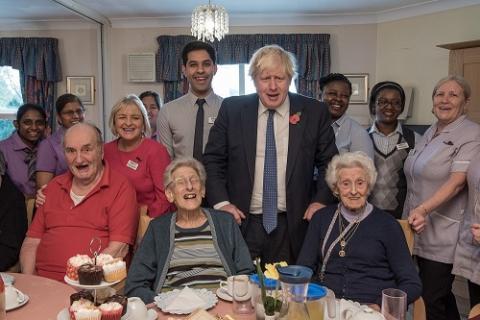 Image Source: Whitby Dene residents' visited by Boris Johnson   At the peak of the COVID-19 pandemic, 25,000 NHS inpatients were discharged into care homes and the responsibility to protect this particularly vulnerable population was passed onto the social care sector.
Like a mirror, coronavirus reflects the damage done under austerity. In 2010, right-wing governments blamed the deficit problem on public sector expenditure, and through savage cuts to welfare, they removed key support mechanisms for people out of work, in low-paid work and those who cannot work. The social care sector has been particularly affected by austerity. Since 2010, £8 billion has been wiped off the social care budget, directly affecting who can access social care and quality of care.  The devastating impacts of these cuts can be seen in the spike in mortality rates amongst people over 60 and care home residents, with 45,368 excess deaths counted over a 4 year period.
This was the mortality landscape under austerity, long before COVID-19. Now at the peak of the COVID-19 pandemic, government ministers have rolled out reckless policy decisions and have multiplied the risk of infection in a sector that was already struggling against the tide of austerity. These reckless policy decisions have led to the death of scores of care home residents and social care workers. It is estimated that approximately 16,000 care home residents have died directly or indirectly as a result of COVID, but data is still emerging and the actual number is still unknown. Not alone in this plight, critical attention must also be paid to the disproportionate number of social care workers who have died as a result of COVID 19.
Mishandling at the Backdoor
At the peak of the pandemic 25,000 NHS inpatients were released into care homes. Health Ministers were quick to rule out the possibility that the NHS could meet the full demand of the COVID-19 pandemic. Already struggling with pre-existing demand and running on dwindling resources, the government knew that the NHS couldn't survive a health crisis of this magnitude. Rather than face that inevitability, the government changed the goal posts and urged NHS trusts to move patients out the backdoor, to discharge them back into the community. And we're hearing mixed messages about how this was coordinated, if it was coordinated at all.  NHS directors are claiming that they only discharged patients to residential homes where those homes agreed that it had the capacity and early on, Matt Hancock waded in with the vacuous promise to do 'whatever it takes' to support the social care sector. But care home providers claim that hospitals were discharging patients where there was no residential capacity and without protection or testing for the staff and residents. If the government's farcical planning of PPE and testing is anything to go by, then we are probably safe to assume that decision to discharge NHS inpatients into care homes was not a joint or coordinated venture. On the contrary, testimonies and leaked reports reveal how government ministers repeatedly ignored expert advice not to discharge NHS patients into care homes and instead, local authorities 'block-booked' care home beds.
In February, just prior to lockdown, Public Health England National Infection Service advised the government not to discharge elderly patients from hospital to care homes, fearing that it will increase the spread of the virus. Age, pre-existing health conditions, shared communal facilities and regular contact with staff and care workers, were all known contributing factors seriously affecting care homes at the peak of the COVID pandemic.  Ignoring this advice, government reports then tried to peddle the idea that care homes were not at risk, claiming that its "very unlikely that anyone receiving care in a care home or the community will become infected."
Now thousands of bereaved families want to know why: why the government made the dangerous decision to discharge 25,000 patients into under-resourced and unprepared care homes.
This may be a new virus, but government Ministers were not facing too many unknowns when considering the impact of COVID 19 on care homes. Experience could be drawn from other countries. Just before the UK went into lockdown, we saw neighbouring countries struggle with mass fatalities in care homes. In Spain, the military found care homes abandoned by staff and found residents left in their beds, dead. Italy, Belgium and Sweden have reported similar, but different devastating impacts of Covid in residential homes. The evidence emerging from those countries was unambiguous: without radical lockdown measures, care home residents faced multiple, acute risks. These deaths could have been avoided. Had the government heeded the warning and legislated for radical lockdown measures in care homes, the outcome could have been very different. Radical lockdown measures could have involved the use of temporary accommodation to quarantine and isolate residents and the provision of full-payment of staff to move into the care home. The care homes that successfully reduced the risk of infection, voluntarily implemented radical lockdown measures and recommendations, whereas care homes that continued to admit new residents, owing to pressures from NHS levels of discharge, saw a rise in infection rates. Even with the provision of basic protection measures, the outcome could have been very different. At the beginning of lockdown, care homes struggled to acquire sufficient PPE and the extra local authority funding they received went towards independently purchasing PPE from over-priced suppliers. Amidst the PPE calamity, the government also ceased community testing in March and limited these crucial protection measures to hospitals. To the dismay of health experts and public at large, the government ceased community testing in support of 'herd immunity', which they suggested could delay the spread of the virus and 'flatten the curve'. The government's swaggering commitment to herd immunity led the implementation of dangerous political decisions that multiplied the risk of infection for this vulnerable population and social care staff.
Official health guidance published in February 25th states: "it's unlikely that anyone receiving care in a care home or the community will become infected."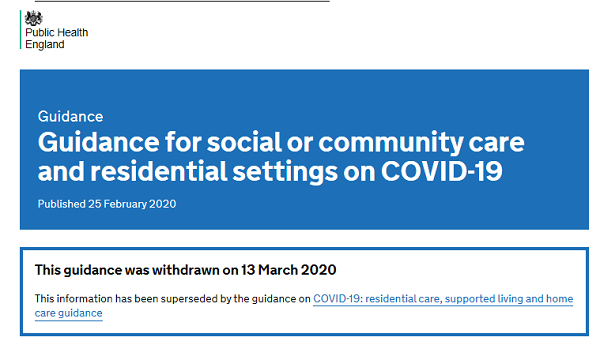 Source: https://www.gov.uk/government/publications/guidance-for-social-or-community-care-and-residential-settings-on-covid-19/guidance-for-social-or-community-care-and-residential-settings-on-covid-19#guidance-on-facemasks
Institutional racism and structural inequality
The other silent killer in this uncomfortable story is the labour market and rampant inequality underpinning the social care sector – compared to other areas of the labour market. Blame has been apportioned with the model of working, with staff working between care homes and coming into contact with multiple different residents in any one shift. But rather than look to individual staff, we need to shine a light on the labour market driving the social care sector: the low-paid, precarious workers it relies upon, the creeping privatisation of sector at large, and regulatory framework tasked with monitoring the network of  public and private providers. It is these volatile economic conditions that drive the risk of infection and seriously undermine the health and safety conditions for care home residents and social care workers.
And these concerns are reflected in the data on coronavirus-related deaths, per occupation. The Office for National Statistics show that social care workers are particularly vulnerable to infection, where a disproportionate number of these workers have died as a result of COVID-19:
Men and women working in social care, a group including care workers and home carers, both had significantly raised rates of death involving COVID-19, with rates of 23.4 deaths per 100,000 males (45 deaths) and 9.6 deaths per 100,000 females (86 deaths).
The institutional and economic landscape of the social care sector also reinforces the same racialised and structural inequalities that are unravelling under COVID-19.  People from black, Asian and minority ethnic backgrounds constitute a disproportionately high number of social care workers. In England, 1 in 5 social care workers in England are black, Asian or from a minority ethnic background, but this representation varies geographically. In London, for example, 67 per cent of social care workers are black, Asian or from minority ethnic backgrounds.  In terms of waged-labour, the social care sector notoriously ranks amongst the lowest paid sectors within the labour market, with a high number of staff recruited on zero-hour contracts, which is the most precarious form of employment. With such a low-waged sector, social care employers struggle to recruit and retain staff and draw heavily upon agency workers, bank staff and migrant workers as a source of low-waged labour.
How did such a critical source of care and support to so many become so volatile? Social care workers provide a crucial provision of care and support to millions of vulnerable people in society, but the scale of inequality they endure, compounded by years of government disinvestment, has culminated in the countless number of deaths of already disenfranchised and marginalised groups. The risks presented under COVID-19 are particularly acute for these groups because of the targeted nature of the political decisions and policies implemented, long before and during this pandemic. Political decisions were made that prioritised groups who matter and downplayed the risks of those who matter less. From care home residents to social care staff, government ministers ignored and downplayed all the known risks and rather than heed the warnings, they put them at even greaterrisk by releasing scores of vulnerable patients into the community, accommodated them in communal settings and refused the most basic safety provisions for the social care staff tasked with protecting them.