10th May 2023
After three long years, the eSTEeM Annual Conference returned to an in person format this year. However, no one was left out with online participation also accommodated for throughout the two days. We were delighted to welcome approx. 100 face-to-face delegates and a further 80 online.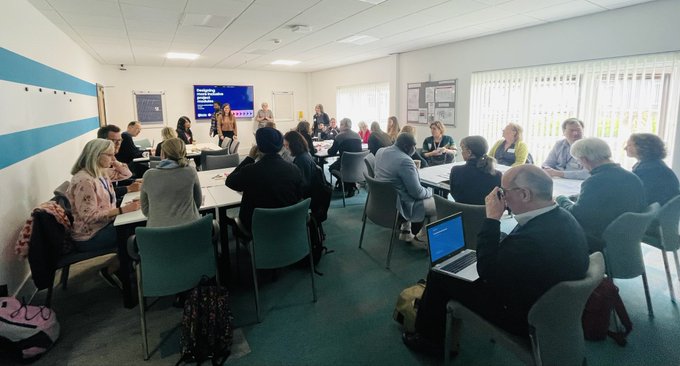 Delegates were treated to a thought-provoking keynote presentation by Harriet Dunbar-Morris from the University of Portsmouth who discussed the approaches to inclusion of student voice being used at Portsmouth. An excellent programme of short orals, workshops and poster presentations followed showcasing scholarship work covering strategically important themes such as Access, Participation and Success, Continuation and Completion and Student Support. 
The event also saw the launch of a fantastic set of resources created by Shailey Minocha and Trevor Collins. The publication Impact of Scholarship of Teaching and Learning, features sixteen case studies presented in a Compendium, along with an accompanying Guide that explains the process of planning for and evaluating the impact of a scholarship project. Please visit the Impact of SoTL page for full details.
Now in its 6th year, awards were presented for the eSTEeM Scholarship Projects of the Year which celebrate excellence in eSTEeM projects over the past year. Many congratulations to the following project teams –
Highly Commended
Title: An investigation into the breadth of learning objectives and skills developed in OpenSTEM Labs experiments
Team: Helen Lockett, Kay Bromley, Kevin Gowans, Duncan McNicholl, Claire Richardson and James Smith
Title: Understanding the Black, Asian and Minority Ethnic awarding gap at The Open University by means of quantitative and qualitative data analytics
Team: Miriam Fernandez, Martin Hlosta, Tracie Farrell, Vaclav Bayer and Fidele Mutwarasibo
Winners
Title: Student co-design of confidence-building formative assessment for Level 1 Computing and IT students
Team: Paul Piwek and Simon Savage
Title: Perceptions, Expectations and Experience of Group Tuition: towards a shared understanding amongst stakeholders (part II: the student perspective)
Team: Anne Campbell, Anne-Marie Gallen and Mark Jones
Best Poster Presentation
The best poster presentation prize went to Louise MacBrayne, Jennie Bellamy, Elaine McPherson and Angela Richards for their project – Black student experience and outcomes on S112: improving a level 1 STEM module.
Many thanks to all who attended and contributed to the event. A special thank you to our three Student Ambassadors, Yaw Buadu, Emmanuel Zuza and Agni Banerjee, who provided invaluable support and assistance to each of the parallel sessions.
If you would like to catch-up on anything you missed, or just enjoy it all over again, please visit the conference website to watch recordings of the sessions and view the PowerPoint presentations.