23rd November 2022
We are delighted to announce a further 11 projects to the eSTEeM portfolio following the 21st call for projects back in July 2022. From improving retention amongst level 1 design students using postcards, to investigating the affect to students learning due to the cost of home experiments, there is a variety of innovative scholarship on show.
For further information please visit the links below.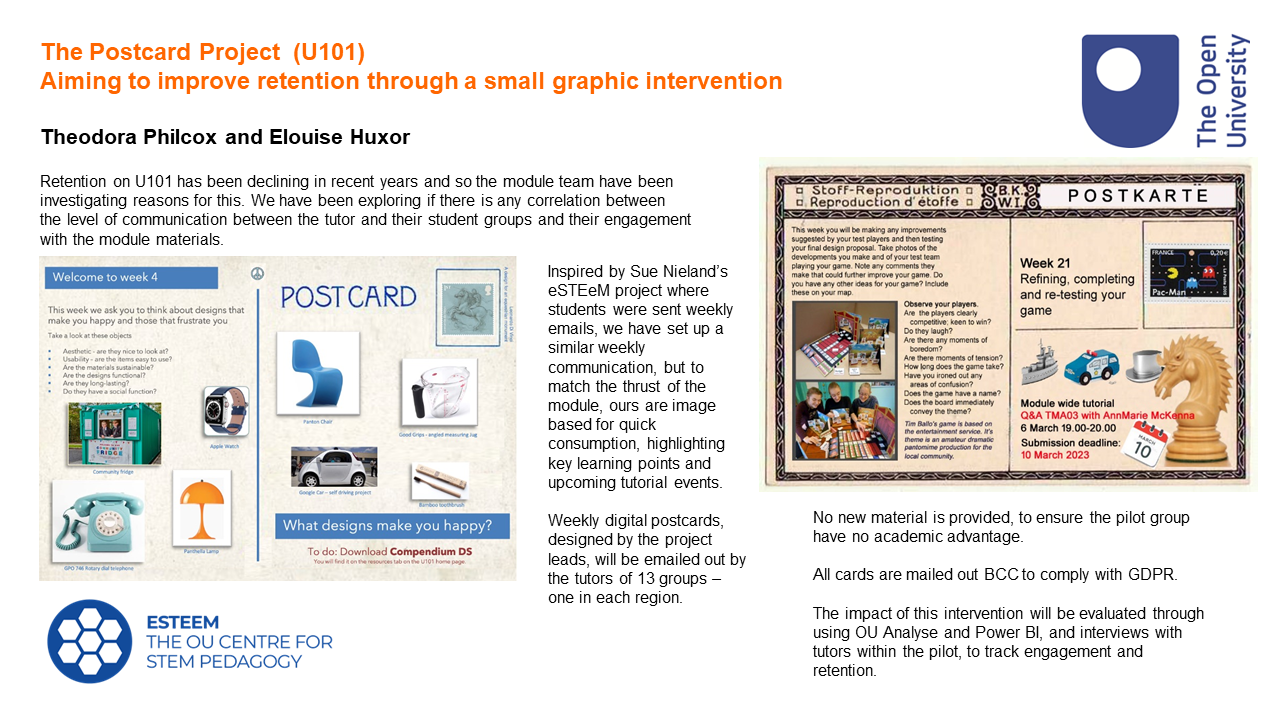 Kay Bromley, Jill Shaw and Joan Jackson - Postgraduate Project Management: evaluation of student employability skills development 
Sarah Davies - Ecoanxiety and environmental education: stories, conversations, actions
Donald Edwards and Mark Slaymaker - Investigation of widening participation and success in postgraduate technology and computing
Anne-Katrin Klehe - Building a sense of community in a core 2nd level Physics module (S217) and investigating qualitatively its effect on retention
Louise MacBrayne and Zoë Chapman - Is the cost of home experiments a potential barrier to learning? Experiences from two level one science modules
David McDade - Recruiting tutors to specialist modules in the School of Computing and Communications at the Open University
Kate Nixon and Nick Chatterton - Team Based Learning tutorials in S248
Jonathan Nylk - How should formative assessments be assessed? A study of S217 online quizzes
Theodora Philcox and Elouise Huxor - Improving retention through small interventions: The U101 postcard project
Joanna Sessford - Which factors are correlated with undergraduate engineering distance learning students' expectations of ethical issues?
Jill Shaw, Rehana Awan, Jim Gillen and Mark Slaymaker - Academic conduct referrals and students from underrepresented groups
The 22nd call for projects will be launched in the New Year.