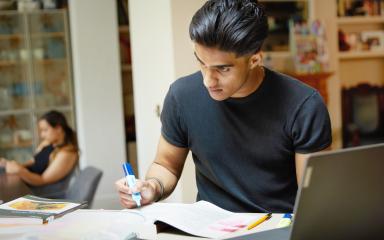 The OU Library is committed to making continuous improvements to Library Search, our central search engine that brings together all the resources the Library has access to. This week we have launched a system that adds extra information to resource descriptions in Library Search. You can now see new features for more than 390,000 resources, which will help you make more informed decisions during your research. 
Although every resource will feature slightly different additional details, you can expect to see some of the following: 
Summary – providing an overview of the resource 
About the Author – giving you background information on the author 
Look inside – a sneak peek at the resource itself 
Tags – themes and topics that are covered in the resource 
Awards – any awards the resource or author may have won 
These additional pieces of information will be displayed in the full record. Select a resource title to open the full record, and then select 'Explore' to see the new features.   
Everything else about the system will stay the same, so there will be no new functionality for you to learn.  
If you have any questions, please contact Library Projects.