On 22 November Professors Clare Warren, Mark Brandon and Richard Holliman, and Dr Barbara Kunz travelled to Manchester for an OU Graduation Ceremony. We were joined by Professor Dave Rothery from Physical Sciences.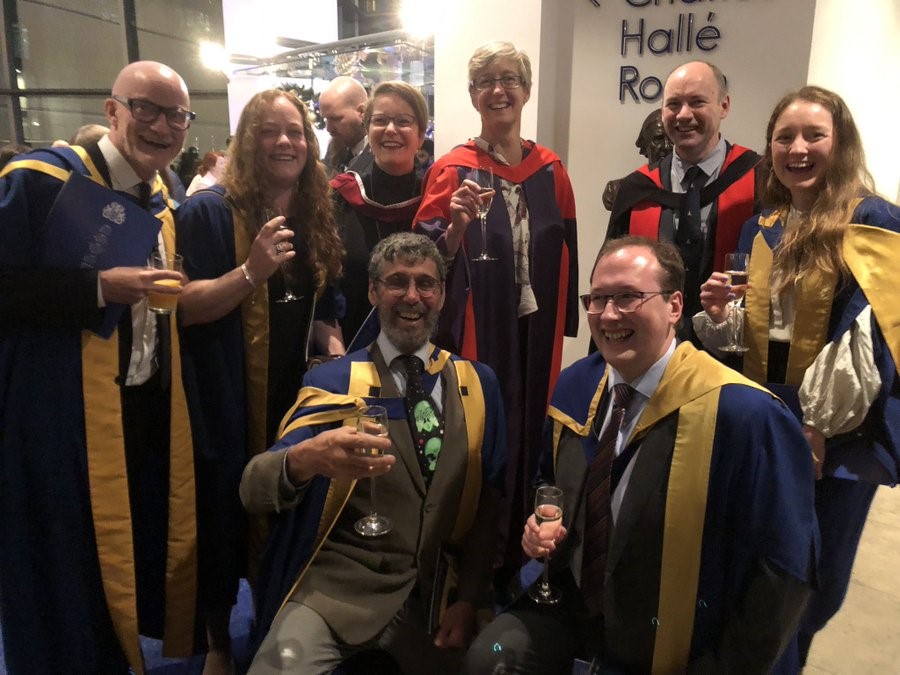 Together, they clapped nearly 600 students crossing the stage as they celebrated their sucess in a range of qualifications.
Of particular note, two new EEES PhDs were finally recognised, Drs Eleni Wood and Stacy Phillips. (Chris Malliband also graduated with a PhD from Physical Sciences.) Their opportunities for an 'in-person' graduation had been delayed due to COVID restrictions.
Photo: back row l-r, Richard Holliman, Stacy Phillips, Barbara Kunz, Clare Warren, Mark Brandon and Eleni Wood; front row l-r, Dave Rothery and Chris Malliband.
Dr Eleni Wood: The Metamorphic Evolution of Eastern Himalayan Lower Crust. 
Supervisors:  Clare Warren, Tom Argles,  Alison Halton and Nick Roberts (BGS)
Eleni's thesis presents a detailed metamorphic and petrochronological study of the high-pressure granulite-facies Masang Kang Terrane (MKT) in NW Bhutan. Two different units were identified within the MKT based on their P-T-t histories. In the northern MKT, the timing of eclogite-facies metamorphism (>17 kbar, ~650°C) is constrained by new zircon and monazite U-Pb ages between ~21-16 Ma. New observations of allanite textures in metabasitic 'granulitised eclogites' are used in conjunction with zircon to constrain the timing of the granulite overprint and decompression (750-800°C, 7-9 kbar) at ~15.5 Ma. The first occurrence of a sapphirine-bearing sample in the Himalaya yields a complementary P-T-t history, which supports high-temperature exhumation in the north MKT.
Dr Stacy Phillips: The Petrogenesis of Kyanite Migmatites in  Bhutan.  
Supervisors: Tom Argles, Nigel Harris, Clare Warren and Nick Roberts (BGS)
Stacy's this thesis examines the petrogenesis of kyanite migmatites, through detailed petrography, high-resolution mineral-scale geochemistry (including the first LA-ICP-MS trace element mapping of kyanite) and geochronology. In Eastern Bhutan, melting of metapelites from the lowermost parts of the Greater Himalayan Sequence (GHS) generated 'in-source' kyanite migmatites by low-volume,
fluid-present muscovite melting. Much of the kyanite in the leucosomes is xenocrystic, entrained from the metapelitic source rocks. Kyanite growth continued in the melt. Peritectic kyanite growth is limited but is prevalent in structurally higher migmatites. Variations in kyanite Cr/V composition reflect disequilibrium melt production and changing melt compositions. Zircon U-Pb geochronology suggests melt formed episodically between ~34 and 12 Ma in response to periodic water availability. Pulses of zircon growth at ~21 Ma and ~14 Ma may relate to movement on the Main Central Thrust, which could have facilitated fluid percolation into the overlying rocks, triggering melting.