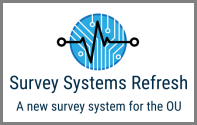 Our new 'Survey Systems Refresh' project is live!
Our plan is that this will give us the infrastructure to be able to deliver surveys:
that are targeted to particular individuals,
can be responsive to behaviour
be relevant to the modules that students have actually studied, rather than the one-size-fits-all approach at the moment.
The new Internal Student Survey is launching in March 2022 on modules presenting in 2022B. Students on modules starting in February 2022 and beyond will be sent three short surveys during their modules:
An early module survey about your reasons for studying, how we are meeting your expectations so far, and which module resources have helped in supporting your learning
A mid-module survey about your module content, tuition, assessment and feedback. 
An end-of-module survey reflecting on your learning more generally, your skills development so far and plans for your next steps. 
Please get in touch if you would like more information.
The project lead is Dr Steph Lay, Senior Manager Student Research.