Our Ecosystems research investigates the ecology of organisms from microbes to plants and mammals, how they interact with each other, their environment and with people.
We carry out fieldwork in the UK and across the world. We use the excellent facilities of the OU Ecosystems Laboratories for experimental studies and analyses and are pioneering citizen science.
Members of the Ecosystems Research Group have interests in:
We work closely with the Open Science Laboratory, and through citizen science initiatives such as the Floodplain Meadows Partnership and Treezilla.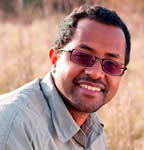 Ecosystems Research Group Point of Contact