Astrobiology Laboratories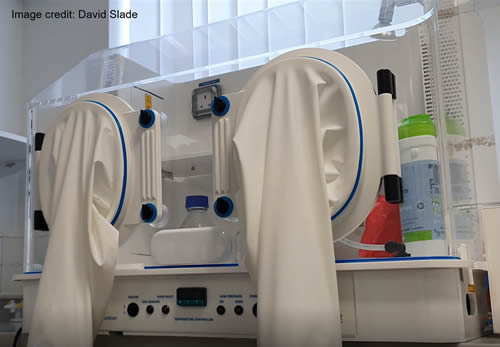 The astrobiology facilities are furnished with standard equipment used to isolate and culture aerobic microorganisms; microbiological safety cabinets, autoclaves, microscopes, and an incubator room.
What makes these laboratories stand out are our anaerobic microbiology capabilities. We have a gas purging station for creating anaerobic growth media, a separate dedicated anaerobic gas mix for charging Wheaton tube headspace, and both Don Whitley and Coy anaerobic chambers for inoculating and sub-culturing anaerobic microorganisms.
Our most recent addition to the laboratories is a series of MicrobeMeters used to determine the optical density of anaerobic microorganisms in-situ.
Molecular Biology Laboratories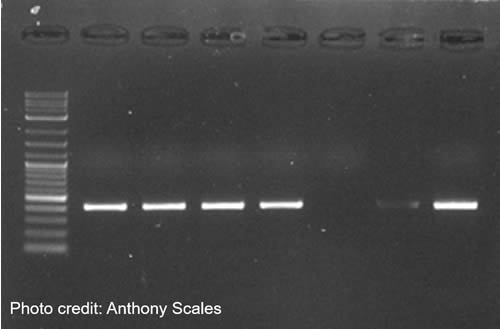 Many samples analysed in the Astrobiology Laboratories originate from extreme environments across the world. Extracting nucleic acids from these habitats takes patience and a great deal of method development.
To prevent cross-contamination our facilities separate out nucleic acid extraction, PCR preparation and PCR into three distinct areas.
Coming soon: a facility dedicated to extracting nucleic acid from low-biomass environments.
Equipment of interest includes:
FastPrep24 and FastPrep24 5G homogenisers;
SpeedVac SPD130 vacuum concentrator;
Qiagen's BLU-V system;
Various PCR machines including gradient PCR;
QuantStudio 3 real-time qPCR machine;
NanoDrop OneTM UV-Vis spectrophotometer;
QubitTM 2 fluorometer;
Gel Doc HR+ gel documentation system;
Invitrogen™ Novex™ WedgeWell™ protein electrophoresis system.
If you have any questions or want to find out more about our Astrobiology and Molecular Biology Facilities, please contact: Ceri Gwyther.
Environmental simulation chambers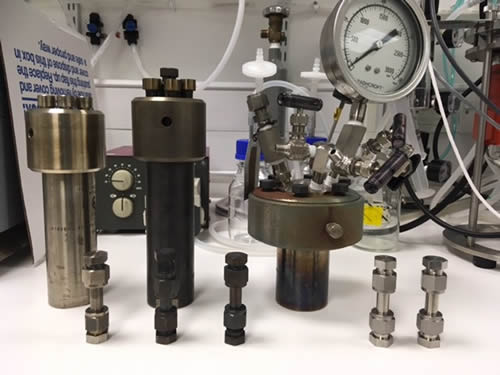 Environmental simulation chambers are used to reproduce, as far as possible, the near- and sub-surface environments of Mars and the icy moons of Europa and Enceladus.
The continuous flow-through reactors allow researchers to sample the chemistry and/or the microbiology of these systems under a range of different temperatures and pressures.
We currently have four reactors, the specifications of which can be found below.
| Environmental simulation chamber | Chamber volume (ml) | Temperature range (°C) | Pressure range (bar) |
| --- | --- | --- | --- |
| MSS | 300 | Ambient to 350 | Atmosphere to 50 |
| IM | 600 | -10 to 150 | Atmosphere to 100 |
| Chamber 3 | 600 | -10 to 150 | Atmosphere to 100 |
| Chamber 4 | 600 | -10 to 150 | Atmosphere to 100 |
Alongside the continuous flow-through reactors, we have a range of static reactors which are used to analyse the chemistry of various regolith compositions and water-rock interactions.
Haskel air intensifiers are used to increase the pressure achievable from a standard 200bar gas cylinder to a high 345bar, which would be the equivalent of simulating the pressures at a depth of 3.5km beneath the surface of Mars.
Finally, in this facility we have a Swagelok gas mixing station for bespoke gas mix make up for use in the simulated environmental chambers.
If you have any questions or want to find out more about our Environmental Simulation Chambers, please contact: David Johnson.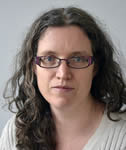 Astrobiology Laboratory Manager